At My Last Supper Play Me Laverne & Shirley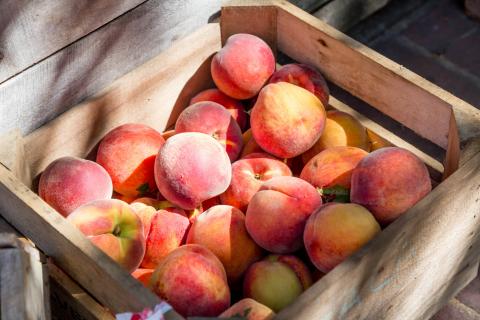 Joanna Englert
What if I told you we were all
born of milk stirred into a cold Pepsi,
conception really just a quick
tsunami of acid & cream,
that really we just fizzle into
life, one long, slow dazzle.
As a kid I'd spent summers
watching Laverne & Shirley
with my mom. She'd descend the stairs
with two "surprise" bowls of canned peaches
& a bag of popcorn. At twelve,
when homesick at the summer camp
I'd begged to go to, the sight of peaches
in the mess hall brought me to tears.
My mom. That gesture.
Had I ever really even liked
peaches that much? On the second
to last day of camp I fired a shotgun.
Counselors chucked orange clay pigeons
into the air, & I hit on my first try, a firework
explosion of pulped clay. Afterword,
the counselors gathered what fragments
could be found in the brush
 & with care, packaged them delicately
into a Ziploc bag, like slivers of an orange
packed for school lunch. These days
I sip on cold beer I only pretend
came bottled from Milwaukee's Shotz Brewery
at the hands of two women.
& sure, an orange isn't a peach,
but sometimes memory sure looks like one,
unmended, messy, packed &
waiting for its next big bang.