Issue 43.2

Winter/Spring 2023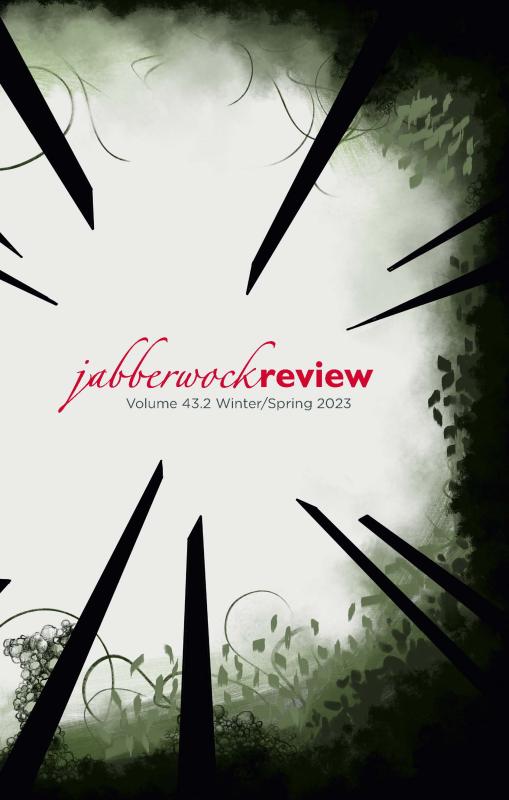 Table of Contents
Fiction

Joanna Pearson
The Dragonflies
10
Adam McOmber
Halloween Story
40
Youn Rourke
Getaway
48
Nicole Beckley
The Bride Wore Red
62
Dan Rivas
Apples
66

Poetry

Jessica Poli
Finches
7
Floristry
8
Michael Montlack
Running Water
37
Kathryn Bratt-Pfotenhauer
In the Morgue
38
Romana Iorga
Ghazal to Ward Off Oblivion
39
Daisy Bassen
Dear Alien Overloards...
42
Dear Alien Overlords, Evil Supervillians, Misguided Scientists and Hikers Who Said What the Hell and Ate the Mushroom
42
Rachael Inciarte
muscle memory
43
Lavonne J. Adams
Intermittent Rain
44
Therese Gleason
Time of Death
46
Heather Truett
Outside the Kingdom Hall in 1982
60

Essay

Anja Semanco
Quark Soup
28
Kayla Cayasso
If We Were Birds
53
Contributors
Lavonne J. Adams
is the author of an award-winning poetry collection and two chapbooks, as well as more than 150 individual publications in journals that include
Tampa Review, North Carolina Literary Review,
and
Artful Dodge
. She was awarded residencies at Vermont Studio Center, Harwood Museum of Art, and The Helene Wurlitzer Foundation.
---
Daisy Bassen
is a poet and child psychiatrist who graduated from Princeton University's Creative Writing Program and completed her medical training at The University of Rochester and Brown. Her work has been published in
Salamander, McSweeney's, Smartish Pace, Crab Creek Review,
and
[PANK
] among other journals. She most recently won the 2022 Erskine J Poetry Prize. She lives in Rhode Island with her family.
---
Nicole Beckley
is a writer and performer whose work has appeared in
The New York Times, Fiction Southeast, New Limestone Review, Litro UK, McSweeney's Internet Tendency, 7x7, Tribeza,
and
The A.V. Club,
as well as in many small theaters and on at least one public access channel. She holds a B.A. in Urban Studies from Stanford University. She's currently at work on a comedic novel.
---
Kathryn Bratt-Pfotenhauer
's work has previously been published or is forthcoming in
The Adroit Journal, Crazyhorse, Poet Lore, Beloit Poetry Journal
, and others. The recipient of a 2022 Pushcart Prize, they have won awards from the Ledbury Poetry Festival and Bryn Mawr College as well as received support from The Seventh Wave and Tin House. Their chapbook,
Small Geometries
, is forthcoming with Ethel Zine & Micro Press in April/May 2023. They attend Syracuse University's MFA program.
---
Kayla Cayasso
is writer, poet, and editor from north Florida and graduate of Florida A&M University. She is a recipient of the 2012 Hollins Creative Writing Book Award, the FAMU Graduate Feeder Fellowship, and placed first in fiction in the 2021 FAMU Annual Writing Contest. Her work can be found in
CaKe: A Literary Journal, Olit, Hyacinth Review
, and elsewhere. She currently lives in Orlando and is an MFA Candidate at the University of Central Florida.
---
Therese Gleason
is author of two chapbooks:
Libation
(co-winner, 2006 South Carolina Poetry Initiative Competition) and
Matrilineal
(Honorable Mention, 2022 Jean Pedrick Chapbook Prize). Her poems appear in
32 Poems, Indiana Review, New Ohio Review, Painted Bride Quarterly, Rattle
, and elsewhere. Originally from Louisville, Kentucky, Therese lives in Worcester, MA with her family. She teaches literacy and is a poetry editor for
The Worcester Review.
Find her at theresegleason.com.
---
Rachael Inciarte
is the author of the chapbook
What Kind of Seed Made You,
published by Finishing Line Press and 2022 Eric Hoffer Award Honorable Mention. Their work has been nominated for the Pushcart Prize and the Best of the Net, and features in
Poetry Northwest, Spillway, Juked,
and others. They live in California, with family.
---
Romana Iorga
is the author of
Temporary Skin
, a poetry collection recently accepted for publication by Glass Lyre Press. A multilingual writer whose work has been inspired by different countries, cultures, and landscapes, she has an MFA from the University of Minnesota. Her poems have appeared or are forthcoming in various journals, including
New England Review
,
Lake Effect
,
The Nation
, as well as on her poetry blog at clayandbranches.com.
---
Adam McOmber
is the author of four queer speculative novels: 
The White Forest
, 
Jesus and John, The Ghost Finders
and
Hound of The Baskervilles
, as well as three collections of short stories: 
My House Gathers Desires
,
This New & Poisonous Air
and
Fantasy Kit
. He is a core faculty member in the Writing Program at Vermont College of Fine Arts as well as editor-in-chief of the literary magazine 
Hunger Mountain.
---
Michael Montlack
is author of two books of poetry, most recently
Daddy
(NYQ Books), and editor of the Lambda finalist essay anthology
My Diva: 65 Gay Men on the Women Who Inspire Them
(University of Wisconsin Press). His work has appeared in
Prairie Schooner, Phoebe, december, Cincinnati Review, The Offing
and
Poet Lore
. He lives in NYC.
---
Joanna Pearson
is the author of two short story collections:
Now You Know it All
(University of Pittsburgh Press, 2021), chosen by Edward P. Jones for the 2021 Drue Heinz Literature Prize, and
Every Human Love
(Acre Books, 2019).
---
Jessica Poli
is the author of
Red Ocher
(University of Arkansas Press, 2023), which was a finalist for the Miller Williams Poetry Prize. Her work has appeared or is forthcoming in 
Best New Poets, North American Review, Poet Lore,
and 
Salamander
, among other places. Originally from Pennsylvania, she is currently a PhD student at the University of Nebraska-Lincoln.
---
Dan Rivas
's work has appeared in
Brick, Oregon Humanities, Your Impossible Voice,
and other publications. In 2021, he was named a Finalist for the Sustainable Arts Foundation Awards. He has an MFA in Creative Writing from the University of Michigan and lives in Portland, Oregon.
---
Youn Rourke
is a writer of short fiction, poetry, and the occasional screenplay. More of her writing can be found in
Story
and
The First Line.
---
Anja Semanco
is a nomadic writer who lives out of a small camper somewhere in the Intermountain West. Her work has been nominated for
Best American Science and Nature Writing
from
High Desert Journal
, as well as nominated for a Pushcart Prize from
Terrain.
Her other work appears in the anthology
Driftfish
from
Zoomorphic
magazine,
Tulip Tree,
and forthcoming
Campfire Stories II
. Discover more from Anja on her Substack at
https://anjasemanco.substack.com
.
---
Heather Truett
is an MFA candidate, a slightly heretical pastor's wife, and an autistic author. Her debut novel,
Kiss and Repeat
released from Macmillan in 2021, and she teaches fiction at Interlochen Arts Camp. She has work featured or upcoming in
Spoon Knife, Hunger Mountain
, and
Thimble
. Heather is represented by Hilary Harwell at KT Literary and serves as Managing Editor for
The Pinch.
Find out more at heathertruett.com or visit her on Twitter (@mmerubies).